Don Geffene
WWII Fighter Pilot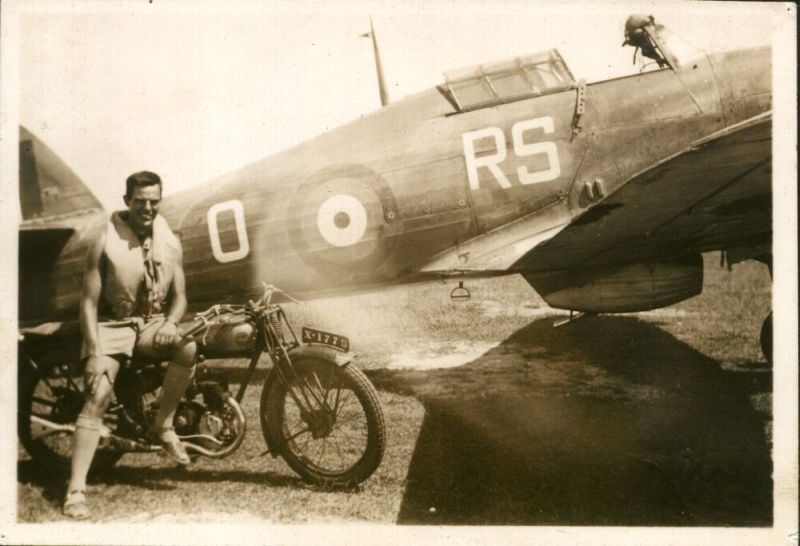 Don with his two favorite machines, his trusty Enfield Motorcycle and his personal Hurricane. Colombo, Ceylon. March, 1942.
Don Geffene was a California boy, who grew up in Pacific Palisades, just outside of Los Angeles. As a teenager he had been fascinated by flight and by his late teens he was working to pay for flying lessons whenever he could arrange them. World War two broke out in 1939 and by 1940, with the onset of the Battle of Britain, the British were desperate for qualified pilots. A number of Americans showed keen interest in flying against the Germans, however, officially the United States was still neutral. Rather than paying for American pilots to travel to the Britain, only to be turned down, the British arranged, with the covert co-operation of the United States Government, to test volounteers for the Royal Air Force while they were still in the U.S.
In January of 1941 Don applied for the RAF. February he was told to report to the "Polaris Flying School" at the Grand Central Aerodrome in Glendale, California When he reported for his pilots testing he met a number of other experienced pilots also there for RAF assessment. There were also RAF and U.S. Army Air Force instructors, dressed in civilian pilots gear to avoid any uncomfortable questions about US neutrality. Once their skills were exhibited they were accepted and handed train tickets for Halifax, Nova Scotia. Don and his fellow Yanks headed off to Canada, departing Halifax for England in March of 1941.
Once in England they were exempted from all flight training and sent straight to the # 56 Operational Training Unit at Sutton Bridge where they began their familiarization on the Hawker Hurricane fighter. Don's Cabin mate on the arduous sea voyage, Flying Officer John A. "Red" Campbell wrote of this time:
Once I arrived in England, I found myself, along with several other Americans who were joining the RAF, assigned to the #56 Operational Training Unit (OTU), located at Sutton Bridge, on England's East Coast. We immediately started training on Hawker Hurricane Fighter aircraft. I found it interesting that most fighter pilots, who worked their way through standard RAF training, had only 140 hours of flying time when they arrived at Sutton Bridge. At OTU, the training lasted 5 weeks. We trained in Formation Flying, Instrument Cloud Training and some Gunnery and Dog Fighting with Camera-Guns. These training flights would consume most of our day and they took place, rain or shine. I gained 84 flying hours in Hurricanes, at OTU.
Once training was completed, I was posted to Port Reith in Cornwall, on the southwest tip of the UK. I was given the opportunity to fly Spitfires at night. A new and very dangerous, experience for me. There were a great number of flying accidents, as the field was located on a high bluff, overlooking the ocean. After about 2 weeks of intensive training, the squadron was transferred and I found myself posted to the 121 Eagle Squadron. This was a new Squadron being formed at Kirton-Lindsey, near Lincoln and would become the main Fighter Base for defense of the large port city of Hull, on England's East Coast. I arrived at the 121 Squadron during the last week of May 1941.
Once we were settled in, we were initially equipped with Hurricanes. We flew mostly in defense of Hull's shipping activity and spent hour after hour doing boring patrols over the shipping convoys in the English Channel. Every now and then, the boredom was broken up with the occasional Bomber Escort mission over occupied coast towns. It was around this time that we started changing our equipment over to Spitfires. Eventually, I applied for a transfer to the North African Theater, as things there were starting to heat up. I left for the Middle East to join up with the 258 Hurricane Squadron on Nov. 3, 1941.
Don had also been assigned to 121 Squadron flying Spitfires and had then been transferred to the second Eagle Squadron ( #71 ). The Eagle Squadrons were a public relations boon both in the UK and the US. The pilots were "Swashbuckling American Heroes" and a Hollywood film starring Robert Stack, Eddie Albert and Alan Hale was made about them. Throughout the fall of 1941 Don flew missions against the Luftwaffe over the English Channel and fighter sweeps deep into France.
Shortly after the attack on Pearl Harbor Don transferred to the South-East Asian theater. While in travel status he met and made great friends with a Canadian from Vancouver, Jimmy Whalen. Both were West Coast beachboys who's parents were divorced. Both also enjoyed reputations as ladies men. Red Campbell had exclaimed that no less that 5 women had been at the train in Los Angeles to see Don off when they shipped out. Don and Jimmy soon discovered that they had both been posted to 30 Squadron, who were soon to ship out for Colombo, Ceylon.
On February 27th the squadron was placed, aircraft and all, onto the H.M.S. Indomitable and shipped to their new base, at Colombo, Ceylon. On March 6th the squadron disembarked the aircraft carrier and set up just outside of Colombo at Ratmalana. There was a large Royal Navy fleet stationed at Colombo, and it was the squadron's duty to defend it. Once there Don bought an old Enfield motorcycle. He and Jimmy used it on a regular basis to go into Colombo and meet the local ladies. As the bike had no headlight, and they never planned on coming home before dark, Don tied an issue flashlight to the handlebars. When not at readiness, Don and Jimmy spent their days at the fine local beach.
Also posted to Colombo was the only Canadian squadron in the Far east at the time, 413 Squadron RCAF, who were operating Catalina flying boats. Squadron leader Len Birchall and his men were tasked with patrolling the ocean watching for a possible Japanese attack. On April 4th, 1942 Birchall and his crew were nearing the end of an extended patrol when they spotted a Japanese carrier task force steaming for Ceylon. They barely had time to radio back to Colombo before they were swarmed by Zeros and shot down. At the time it was assumed that Squadron Leader Birchall had died, sacrificing himself for Ceylon. He became an instant hero, known as " The Saviour of Ceylon". Only at the end of the war was it realized that he had survived, been captured, and spent the war in a Japanese prison camp.
On April 5th a Japanese strike force under the command of Vice-Admiral Chuichi Nagumo, fresh from their attack on Pearl Harbour, attacked Ceylon with 120 Carrier based air planes. (A detailed description of the Battle of Ceylon is provided by the Royal Air Force web site). The RAF could field only 40 defending aircraft. These were Fulmars and Hurricanes, which were no match for the swift and maneuverable Zeros of the Imperial Japanese Navy. Don, Jimmy and their flight leader, Flight Lieutenant Bob Davidson, who was also from Vancouver, sprinted to their Hurricanes and as their base was under attack. They took off under fire and gained altitude as fast as possible. Although greatly outmatched, the 30 Squadron pilots were able to repulse the attacking Japanese. However, the price was costly. Five 30 Squadron pilots had been killed, including Flying Officer Don Geffene.
Don had ignored US neutrality and joined the RAF to fight the Germans. In a strange twist of fate he was killed fighting the same planes that had drawn the United States out of neutrality with their attack on Pearl Harbor. Don's body was buried with his plane, and thus never officially recovered. His name is inscribed with those of other missing South East Asia pilots, on the Singapore memorial.
To e-mail Don's nephew, Dan Shapiro
" Eagle Squadrons" - history.acusd.edu/gen/WW2Timeline/eaglesquadron.html